It was 1920 that Mr. Hu Shi began to associate with Astragalus membranaceus. That autumn, because of his illness, he took a lot of Western medicine, and could not see well completely. Later, Luzhong'an, a famous doctor, was fortunate enough to treat his illness with Astragalus Membranaceus as the main medicine. Shortly afterwards, Mr. Hu Shi's friend Ma Youyu's younger brother suffered from edema, swelling to the abdomen and unable to open his eyes. All doctors were helpless. Mr. Lu Zhongan reused Astragalus and other medicines. Within a hundred days, he was cured of his illness. From then on, Mr. Hu Shi had a more thorough understanding of Astragalus membranaceus. After middle age, he gradually felt exhausted and unable to do his best. He often used Astragalus to soak water and drink instead of tea. Especially before giving a lecture, we should always sip a few mouthfuls of Astragalus water, so that our energies are doubled and we can speak like a bell and talk like a bell. He then told the people around him the trick and benefited them a lot.
Function and main treatment: invigorate Qi and raise yang, fix surface and stop sweat, diffuse water and reduce swelling, nourish body and blood, stagnate and pass arthralgia, relieve poison and purulence, and astringe sores and generate muscle. It is used for deficiency of Qi and fatigue, lack of food and stool, depression of mid-qi, prolonged diarrhea and anal collapse, bleeding and bleeding, surface deficiency and self-sweating, deficiency of Qi and edema, internal heat and thirst relief, deficiency of blood and yellowing, hemiplegia, paralysis, numbness, carbuncle is difficult to collapse, prolonged ulceration and astringency.
Usage and dosage: 9 -30g.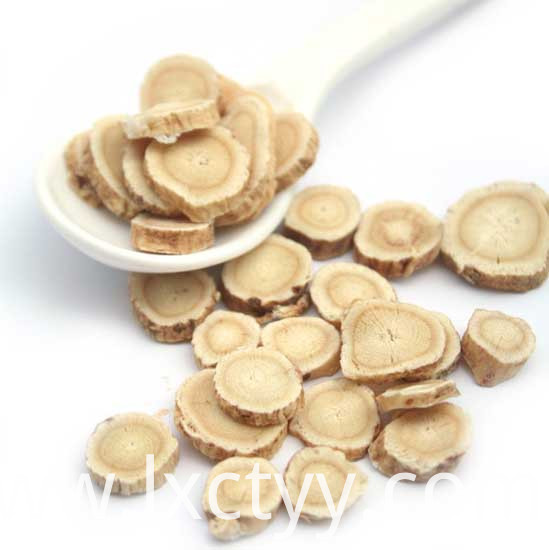 Product Categories : Women Three Treasures Tea > Astragalus Membranaceus